Goals for Culture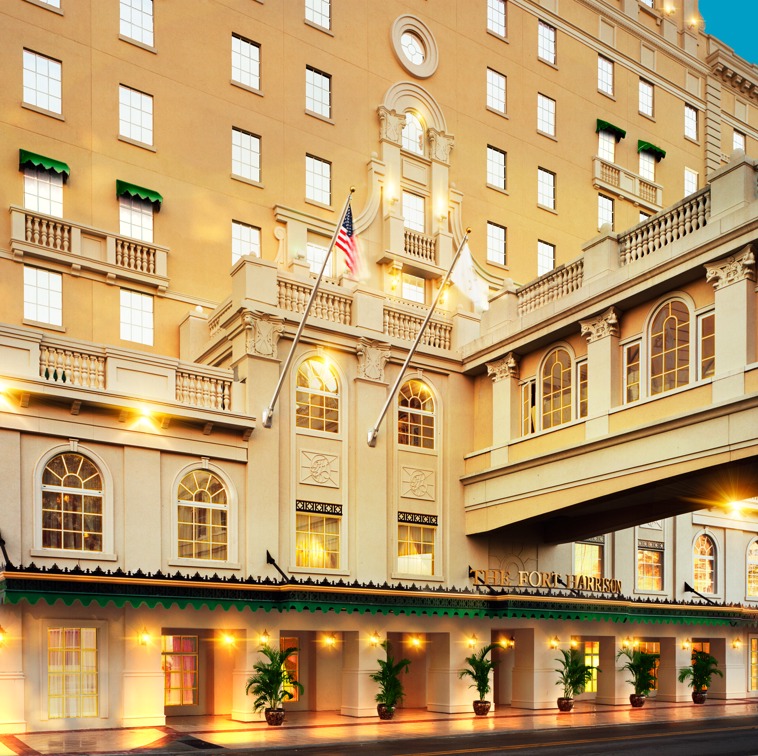 Did you know Clearwater has a cultural plan? Probably you don't. Most people don't. It does exist, however, and if such a plan could be transformed into a magnet for future dreams—think of what could happen.
Just a little catalyst could turn downtown Clearwater into a stylish enclave, says renowned jazz musician Chick Corea, winner of 20 Grammy Awards and a Clearwater resident who has performed at the Church's Fort Harrison on many occasions. "I like boutiques, restaurants and all kinds of specialty shops," he muses. "I personally prefer this kind of atmosphere to large department stores. That's what a thriving arts community could mean for Clearwater. We have a lot of the artists living here already. We need to capitalize on that."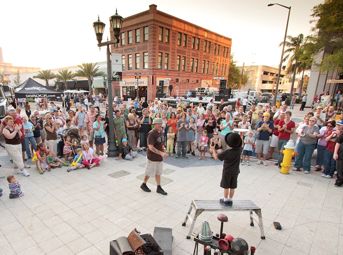 Another celebrity and frequent visitor to Clearwater, movie star John Travolta, suggests an even more-brilliant vision for the city. Travolta has made a number of movies in Florida—"The Punisher," "Basic" and "Lonely Hearts"—and he has helped promote Pinellas County's Sunscreen Film Festival. In 2006 he was honored by then Governor Jeb Bush for bringing the movie industry to Florida. "I've supported a lot of film projects in Florida, most recently the Bollywood awards in Tampa, which had a good bit of the entire planet paying attention to this area," Travolta says. "We have everything we need to establish a base for the arts—film, music, dance, theater, writing, painting, sculpture, and more—right here in Clearwater. The Church of Scientology brings people in from all over the world—and included in that number are many professional artists, actors, musicians, painters. We believe in making great communities and we believe in elevating culture."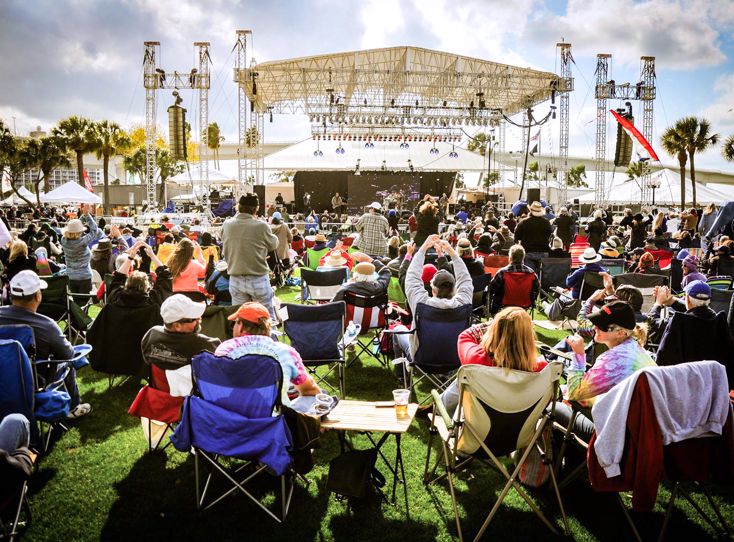 Back to the Clearwater Cultural Plan, that proclaimed its consistency with the official vision of Clearwater: "Sparkling Clearwater is a uniquely beautiful, economically vibrant community that re-invests in itself and is a wonderful place to live, learn, work and play." This was accepted by the City Commission on September 5, 2002, and updated 11 years later into something called the official Clearwater Strategic Vision—a document of super vision, if you will, long-sighted on chest-puffing and short-sighted on actual implementation.
Called a "citizen's project," the Cultural Plan took 10 months, the participation of 61 community leaders, 21 steering committee and task force meetings, a poll of 1,000 citizens and community leaders, focus groups totaling 480 people, 15 neighborhood block parties, 477 persons who filled out a community cultural assessment survey and a Web survey e-mailed to employees of every major Clearwater entity from Ruth Eckerd Hall to downtown business owners to school-teachers and parent groups. The Clearwater plan listed six goals that, 12 years later, are still unreached:
1. Stimulate local cultural development to benefit Clearwater's citizens and visitors;
2. Create a Public Art and Design Program to enhance the look of the city with works of art and design that create a sense of place and increase the quality of life for residents and visitors;
3. Enhance and cultivate opportunities for the community to participate in the visual, literary and performing arts;
4. Establish Clearwater as an artist-friendly city where artists prosper;
5. Promote opportunities for all community members to engage in lifelong learning in and through the visual, literary and performing arts;
6. Recognize and achieve the cultural industry's potential to contribute significantly to the economic well-being of Clearwater.
Despite the various Cultural Plan verbiages, Clearwater has made very little progress on the goal to establish itself as "an artist-friendly city," in the vein of neighbors to the north (Dunedin, Safety Harbor) and south (St. Petersburg, Gulfport). One example: The colorful/creative storefronts and murals that articulate the youthful vitality, especially, of Dunedin and St. Petersburg are still stymied by dowager downtown Clearwater regulations.
According to Commissioner Susan Latvala, Clearwater's Community Development Code sign regulations, which cleared up the unsightly billboard advertising along Gulf-to-Bay, also applies to downtown merchants' signs, public artwork—just about anything short of a tombstone.
But beyond obstacles such as Clearwater's sometimes self-defeating rules—easily remedied if public opinion weighed in—is a much tougher hurdle. Just as no government panel ever created a great work of art, few bureaucrats have the skill sets to cause a cultural renaissance. Travolta scripts a scene in which all of the actors are motivated. "It takes a whole community—government officials, citizens and artists to create a more aesthetic environment. This is a great recipe for success and everyone benefits." Corea, reached in France for his comments, is singularly upbeat about what could happen here—because he has seen the dynamics work elsewhere. "Well, I've traveled to so many beautiful summer vacation spots around the world playing concerts," he says. "The summertime is filled with jazz festivals all through Europe, the USA and other parts of the world. For instance, I spent three days in Juan-les-Pins, Antibes, France, playing a concert just a week ago. This is the famous Côte d'Azur—also known as the French Riviera—beaches and hotels which go for miles along the Mediterranean coast.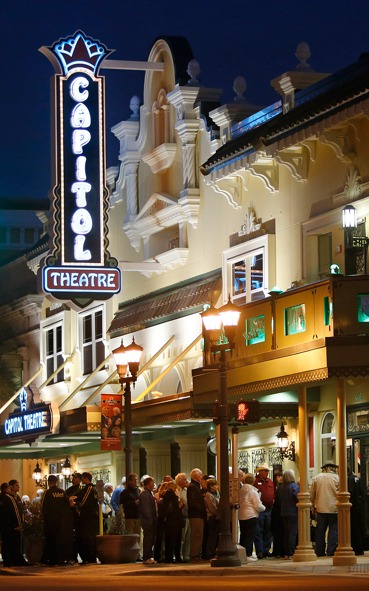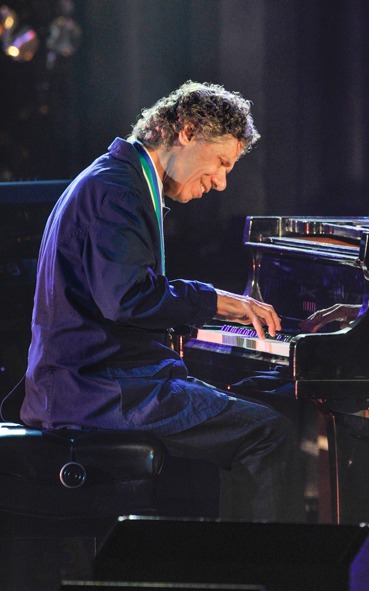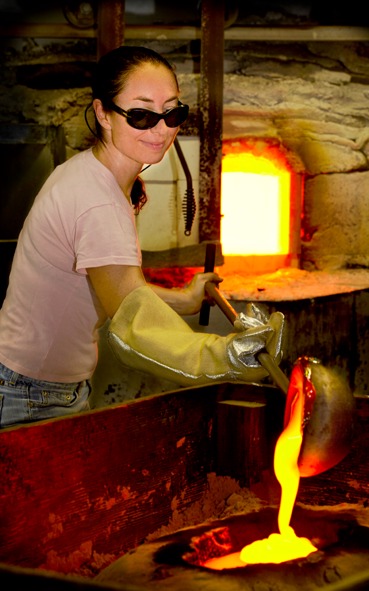 Clearwater is a magnet for artistic talent—at the newly opened Capitol Theatre, with world-renowned musical performers such as Chick Corea, and with artists and sculptors such as glass designer Marlene Coates.
"And still my favorite beach in the world is Clearwater Beach! I love the renovation that was recently done there. I think Clearwater Beach is definitely a great asset to Clearwater. And the downtown looks like it's on the way to matching the beauty and fun of the beach."
Glass sculptress Marlene Coates, whose studio is on Cleveland Street, observes: "We have some high quality places like Craig Taylor, Gioffre, a Gelateria, and Capitol Theatre. Therefore, I think we should strengthen that type of audience. It seems like high quality fashion, music and ice cream. That concept of high-end arts, fashion, music and food could be a good theme."
Corea recently attended a Manhattan Transfer concert at the newly renovated Capitol Theatre. "Wow!" he said. "It's such a beautiful renovation! And it looks like the Ruth Eckerd team are going to continue to book great shows there. I think it would be great to also have some smaller places that presented live music. I always thought that small clubs and restaurants are great environments for a community to present their local talent as well as bring in the bigger names from time to time.
"I grew up musically in New York City in the '60s and '70s during the great and creative musical era," Corea recalls. "There were many jazz clubs and coffeehouses and restaurants all having small groups appearing throughout the week. The atmosphere was friendly and social with lots of entertainment. A great place to live and learn. I would love to see downtown Clearwater have a similar spirit—probably more relaxed and easygoing of course."